Dr. Alpdogan Kantarci, DDS, PhD, CAGS,
Periodontist, Dental Implant Surgeon
Director of Clinical Operations
Dr. Kantarci is a Senior Member of the Staff (Professor) at the Forsyth Institute and the Director of Clinical Operations at Forsyth Faculty Associates dental clinic in Cambridge, MA, USA, works as a Faculty Member at Harvard University School of Dental Medicine, and serves as an Adjunct Associate Professor at Boston University Henry Goldman School of Dental Medicine. He has started his career as dentist after graduating from Istanbul University in 1991. He completed his clinical and PhD studies at Istanbul University at the Department of Periodontology joining the faculty. He moved to the USA in 1999 as a postdoctoral fellow at Boston University. Upon completing his postdoctoral studies in 2002, he has started clinical periodontology training at Boston University. After graduating, he was appointed as an Assistant Professor in 2004 at the Henry Goldman School of Medicine. He was promoted to the Associate Professorship in 2009. In 2010, he joined the Forsyth Institute maintaining his adjunct faculty position at Boston University.
During his academic career, Dr. Kantarci has been actively involved in training, education and patient care. He has mentored more than 30 PhD, doctorate, and Master's theses; directed and taught in several graduate and postgraduate clinical and didactic dentistry courses. He serves in the editorial board and as a reviewer of 15 dental and medical scientific journals. He is the recipient of numerous federal, international and industry-supported research grants and holds several patents. He has published more than 85 articles in peer-reviewed scientific journals, wrote book chapters, and has presented more than 170 oral talks and posters in dental and medical congresses.
His passion is the translation of scientific knowledge to patient care. Through this, Dr. Kantarci believes that health can be improved, lost tissues due to disease can be restored and success can be maintained over long-term. He is an active cyclist, loves traveling and exploring.
Meet Dr. Gurkan Goktug
Dr. Gurkan Goktug, DMD, DDS, CAGS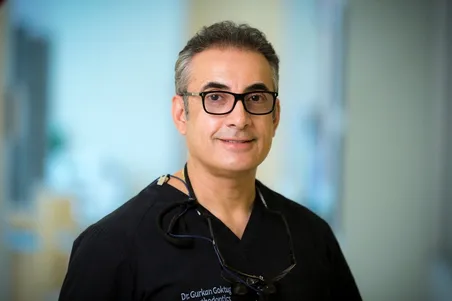 Prosthodontist / Restorative Dentist
Associate Director of Clinical Operations
Dr. Gurkan Goktug received his DDS degree from Hacettepe University School of Dental Medicine in 1992 in Turkey. He began his postdoctoral training in prosthodontics in 1998, and received his certificate of advanced graduate study in 2001 from Boston University Goldman School of Dental Medicine. Immediately after graduation, he was hired as a clinical instructor in the Department of Restorative Sciences and Biomaterials, Division of Postdoctoral Prosthodontics. He was appointed as course director of the Basic Prosthodontics Techniques course in 2002, and has remained director of this course for the last 12 years. Dr. Goktug received his DMD degree in 2008 from Boston University Goldman School of Dental Medicine. He was promoted to clinical assistant professor in 2006 and in 2010, he was promoted to assistant professor. He received the Residents' Award for Teaching Excellence in 2006, 2007, 2009, 2010 and 2011. Dr. Goktug has been actively teaching continuing dental education courses for 12 years. He has lectured nationally and internationally. He has been practicing dentistry, limited to prosthodontics, at 2 different facilities, and teaches postdoctoral prosthodontics at the Boston University Goldman School of Dental Medicine. He has published in peer-reviewed professional dental journals.
Dr. Goktug is a prosthodontist specializing in complex esthetic cases and full-mouth rehabilitation, including full porcelain crowns, porcelain veneers, and full porcelain inlays and onlays; single crowns and bridges, full-mouth fixed partial dentures, complete dentures; implant-supported crowns, bridges, and over dentures. When he is not practicing dentistry he enjoys weight lifting, gardening, baking bread and spending time with his family.