Dr. Alpdogan Kantarci, DDS, PhD, CAGS,
Periodontist, Dental Implant Surgeon
Director of Clinical Operations
Dr. Kantarci is a Senior Member of the Staff (Professor) at the Forsyth Institute and the Director of Clinical Operations at Forsyth Faculty Associates dental clinic in Cambridge, MA, USA, works as a Faculty Member at Harvard University School of Dental Medicine, and serves as an Adjunct Associate Professor at Boston University Henry Goldman School of Dental Medicine. He has started his career as dentist after graduating from Istanbul University in 1991. He completed his clinical and PhD studies at Istanbul University at the Department of Periodontology joining the faculty. He moved to the USA in 1999 as a postdoctoral fellow at Boston University. Upon completing his postdoctoral studies in 2002, he has started clinical periodontology training at Boston University. After graduating, he was appointed as an Assistant Professor in 2004 at the Henry Goldman School of Medicine. He was promoted to the Associate Professorship in 2009. In 2010, he joined the Forsyth Institute maintaining his adjunct faculty position at Boston University.
During his academic career, Dr. Kantarci has been actively involved in training, education and patient care. He has mentored more than 30 PhD, doctorate, and Master's theses; directed and taught in several graduate and postgraduate clinical and didactic dentistry courses. He serves in the editorial board and as a reviewer of 15 dental and medical scientific journals. He is the recipient of numerous federal, international and industry-supported research grants and holds several patents. He has published more than 85 articles in peer-reviewed scientific journals, wrote book chapters, and has presented more than 170 oral talks and posters in dental and medical congresses.
His passion is the translation of scientific knowledge to patient care. Through this, Dr. Kantarci believes that health can be improved, lost tissues due to disease can be restored and success can be maintained over long-term. He is an active cyclist, loves traveling and exploring.
---
Dr. Gurkan Goktug, DMD, DDS, CAGS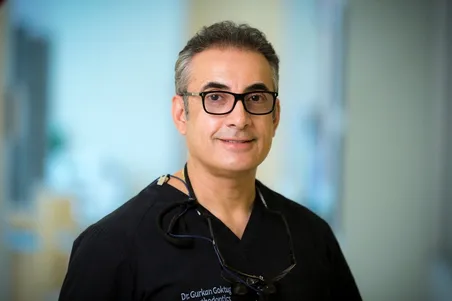 Prosthodontist / Restorative Dentist
Associate Director of Clinical Operations
Dr. Gurkan Goktug received his DDS degree from Hacettepe University School of Dental Medicine in 1992 in Turkey. He began his postdoctoral training in prosthodontics in 1998, and received his certificate of advanced graduate study in 2001 from Boston University Goldman School of Dental Medicine. Immediately after graduation, he was hired as a clinical instructor in the Department of Restorative Sciences and Biomaterials, Division of Postdoctoral Prosthodontics. He was appointed as course director of the Basic Prosthodontics Techniques course in 2002, and has remained director of this course for the last 12 years. Dr. Goktug received his DMD degree in 2008 from Boston University Goldman School of Dental Medicine. He was promoted to clinical assistant professor in 2006 and in 2010, he was promoted to assistant professor. He received the Residents' Award for Teaching Excellence in 2006, 2007, 2009, 2010 and 2011. Dr. Goktug has been actively teaching continuing dental education courses for 12 years. He has lectured nationally and internationally. He has been practicing dentistry, limited to prosthodontics, at 2 different facilities, and teaches postdoctoral prosthodontics at the Boston University Goldman School of Dental Medicine. He has published in peer-reviewed professional dental journals.
Dr. Goktug is a prosthodontist specializing in complex esthetic cases and full-mouth rehabilitation, including full porcelain crowns, porcelain veneers, and full porcelain inlays and onlays; single crowns and bridges, full-mouth fixed partial dentures, complete dentures; implant-supported crowns, bridges, and over dentures. When he is not practicing dentistry he enjoys weight lifting, gardening, baking bread and spending time with his family.
---
Dr. Hatice Hasturk, DMD, PhD, CAGS

Periodontist, Dental Implant Surgeon
Dr. Hatice Hasturk received her DDS from School of Dentistry at Hacettepe University in Ankara, Turkey in 1988. She completed her PhD and periodontology specialty training at the same institution in 1995. After working for four years as a private periodontist in Istanbul, she started working at the Clinical Research Center at the Boston University Henry M. Goldman School of Dental Medicine as a research fellow in 1999. Dr. Hasturk received a Certificate in Advanced Graduate Study in periodontology from GSDM in 2004. She joined the Forsyth Institute in 2010 and is a Senior Member of Staff (Professor), Department of Applied Oral Sciences and the Director, Center for Clinical and Translational Research.
As a dentist and specialist (periodontist), Dr. Hasturk's work mainly involves the oral cavity, but she is interested in much more than just improving dental care. She is working to understand the link between oral diseases and how they can affect the rest of the body. Specifically, Dr. Hasturk focuses on diabetes, cardiovascular disease, and other conditions that share a common inflammatory pathway with periodontal disease.
Dr. Hasturk is a board-certified periodontist and has authored or coauthored more than 50 scientific publications in peer-reviewed dental and medical journals.
---
Dr. Yumi Maeda, DMD, DDS, PhD
General Dentist
Dr. Yumi Maeda received her DDS and PhD degree from Osaka University School /Graduate School of Dentistry in Japan in 1997 and in 2001. She began her postdoctoral training in oral surgery and general dentistry at Osaka University and its affiliated hospitals. She additionally completed a residency program in anesthesiology in Kochi University School of Medicine in 2006.
She moved to the USA to perform research in chronic pain, focusing on the mechanism of chronic pain in the human brain. Following her research, she earned her DMD degree from Boston University Henry M. Goldman School of Dental Medicine.
Dr. Maeda is a general dentist performing basic restorations, crowns and bridges, extractions, Invisalign, and teeth whitening. Dr. Maeda also provide stress free environment under nitrous oxides sedation. Dr. Maeda is an active member of the American Dental Association (ADA), the Massachusetts Dental Society (MDS) and Academy of General Dentistry (AGD).
---
Dr. Tingxi Wu - Orthodontist

Dr. Tingxi Wu is currently a faculty member at the Forsyth Institute, serving as the Director of Orthodontic and Craniofacial Development Research. Prior to this position, she was an Assistant Professor in the Department of Orthodontics and Department of Oral Biology at the State University of New York at Buffalo, School of Dental Medicine. Dr. Wu obtained her DDS degree from West China School of Stomatology, Sichuan University. Following her DDS training, she acquired her PhD degree and orthodontic specialty training at University of California, Los Angeles.
As the director of orthodontic and craniofacial development research at Forsyth, Dr. Tingxi Wu synergizes the basic dental science and clinical work, resulting in advances in oral health and dental research at the institute. Dr. Wu also practices at Forsyth Faculty Associates to provide the best care to orthodontic patients and manage their malocclusion and craniofacial development by utilizing the most advanced technology in the field. Dr. Wu's clinical expertise includes craniofacial growth-modification, children and adult orthodontics, orthodontics for orthognathic surgery, orthodontics to assist children and adults with breathing disorders, and management of complications in orthodontic treatment.
Dr. Wu is also actively involved in translational and clinic studies, including development of preventive and therapeutic tools against craniofacial deformity and orthodontic-related oral infectious diseases. The novel technologies developed by Dr. Wu were licensed by several dental companies. In addition, Dr. Wu's basic research has been focused on using multidisciplinary approaches to study oral microbial pathogenesis with a specific focus on microbial biofilm, inter-species interaction and signal transduction. She has published numerous peer-reviewed articles and presented her research at national and international conferences. Dr. Wu has received awards from American Association of Orthodontists and American Association of Orthodontists Foundation.
---
Dr. Dina Husein, D.M.D, C.A.G.S
Endodontist
---
Dr. Afaf Khayat, D.D.S, M.S.D, C.A.G.S
Prosthodontist
---
Elida Salazar, RDH
Elida is a Registered Dental Hygienist, Certified to Administer Local Anesthesia, who graduated in 2008 from Mount Ida College in Newton, Massachusetts. She continued her education at Northeastern University to earn her Bachelor of Science in Health Management. She has always enjoyed school, learning new things and taking on new challenges. 10 years ago, Elida became part of Forsyth Institute and joined the Center for Clinical and Translational Research team as a Research Dental Hygienist. At the present time, she complements her interest in research with clinical practice at Forsyth Faculty Associates, where she spends her time helping patients to achieve optimal dental wellness. Elida speaks English and Spanish, which is a great asset to the clinical team when it comes to better understand and assess the patient's needs and determining what level of dental care is required.
Elida enjoys the beach and traveling. She cherishes time with family, especially spending time with her husband and two girls.
---
Melissa Martins, RDH
Melissa Martins received a Bachelor of Science in Dental Hygiene in 1999 at The Forsyth Institute. Melissa has worked with the Forsyth Faculty practice and Clinical Research Department since 2010. Melissa enjoys meeting new patients from all over the world and enjoys working with children.
---
Gay Torresyap, RDH
Gay Torresyap, RDH, MS graduated from The Forsyth School for Dental Hygienists and received her master's degree in clinical investigation at MGH Institute of Health Professions. She has worked in many different practice settings: university (MIT), hospital (Children's Hospital Boston), private (Dentaquest), periodontal, research and teaching. She is committed to patient-centered care based on each patient's need(s).
---
Wilson Casimir, RDH
Wilson a graduate from the State University of Haiti, came to the US in the late 1980's to rejoin his family in Boston, MA. He then attended the ESL program at Harvard University. Wilson also attended Forsyth School of Dental Hygiene, where he earned his RDH certificate. He has been practicing dental hygiene for more than 2 decades in different organisations and private offices around the Boston Area. He joined Forsyth Faculty Associates Dental Clinic in 2013 and truly enjoys all aspects of dentistry especially preventive and educative dentistry. His hobbies include photography, traveling, music, and world politics. Speaks French , Haitian creole and Spanish.